Indoor Air Quality Systems
Indoor Air Quality in Michigan City, IN
Maintenance & Install for your ERV, HRV, Humidifier, Dehumidifier, & Plasma Air Purifier
---
When you need indoor air quality system services call your local Michigan City experts at Wiesemann Plumbing, Heating, & Air. We know how to improve your home air quality.
We provide prompt and professional IAQ system maintenance, repair, replacement and new installation. Call us today to schedule the services you need.
Greenhouse Climate Control
Wiesemann is your local green house HVAC and IAQ expert.
Call us today to schedule your estimate or installation.
---
---
Explore the Indoor Air Quality Systems We Service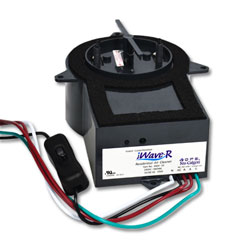 iWave-R Air Purifier
---
iWave-R treats the air in any brand of residential duct air conditioning systems up to 6 tons (2400 CFM) in size with no maintenance and no replacement parts. Designed for universal mounting, the iWave-R can be installed inside or outside of duct, or to attach magnetically near the indoor fan in the air handler.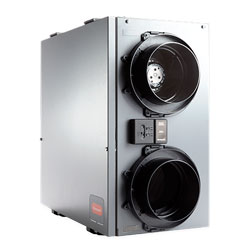 Honeywell TrueFRESH™ Ventilation System
---
Bring the outdoors indoors with our TrueFRESH™ Ventilation Systems. It brings fresh air into your house, even if all the window are closed. It works to recover heat or cooling from the air leaving the house in any season. What about humidity? TrueFRESH also has energy recovery ventilators (ERVs) that kick into gear on humid days, reducing the amount of humidity coming in.
Recover Cooling/Heating
Recover up to 70% of the heat (in cold weather) and cooling (in warm weather) from the air leaving the home* *Heat recovery example based on "Apparent Sensible Effectiveness" testing certified by the Home Ventilating Institute for Honeywell's TrueFRESH HRV/ERV models.
Energy Recovery Ventilators
ERVs reduce the amount of humidity coming in from the outside air on humid days
Fresh Air
Bring fresh air into the home, even when windows are closed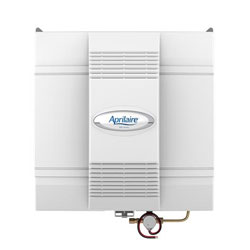 Aprilaire Humidifier
---
FULL COVERAGE up to 4,200 square feet in tightly built homes with a capacity of 18 gallons per day
AUTOMATIC HUMIDIFIER with dual sensors to monitor and respond to both outdoor temperature and indoor relative humidity to deliver optimum humidity 24/7 throughout the home – simply set it and forget it
CONVENIENT DIGITAL CONTROL shows percent humidity, lights indicate humidifier is running, when to change the water panel, when service is needed, and Blower Activation switch sets humidifier to run continually, or only when the furnace runs
HUMIDITY FOR HEALTH Aprilaire Humidifiers can help you maintain optimal humidity in your home of 35% – 45% which has been shown to reduce the incidence of respiratory infections and symptoms related to allergies and asthma by minimizing the formation of bacteria and viruses, fungi, and dust mites. In addition, you'll feel more comfortable while also preserving items in your home susceptible to damage from changing humidity or dry conditions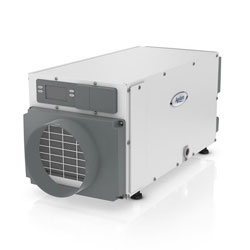 Aprilaire Dehumidifier
---
Removes up to 70 Pints (8.8 gallons) of moisture per day!
Light Weight – At 56 pounds, the unit is easy to maneuver and position during installation and setup.
Perfect for tight spaces — Our compact design (12.5" x 12.5" x 25") allows you to install humidification solutions in cramped crawlspaces.
Digital RH control— Do away with the wide variances typically seen with a mechanical dial and know that the space is being maintained at the desired humidity level.
Powerful 200 CFM Blower — Maximum airflow allows for faster and more consistent environmental control in the space.
Energy star — Meets Energy Star requirements resulting in an energy efficient unit that minimizes the impact on your utility bill.
Wi-Fi external control — The 1820 is compatible with our Wi-Fi dehumidifier control.
Freestanding (plug and play) or Inlet and Outlet ducted - Ducted with 8" flex duct or hard pipe
MADE IN THE USA - Engineered and manufactured in Madison, WI, USA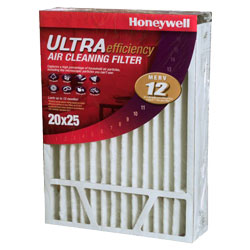 Honeywell Air Filter
---
Today's tightly built homes can trap dust, allergens and potentially hazardous contaminates. Our Air Filter Ultra Efficiency CF200A1016/U, 20x25x4.5 - Merv 12 captures a high percentage of airborne particles, including microscopic particles. It carries a MERV 12 rating — up to 60 times more efficient than a one-inch fiberglass filter. This exceeds Honeywell FC100A1037 specifications. It's compatible with all Honeywell and many Aprilaire, Space-Gard and Trion Air Bear models.